There is a range of professional education routes for initial (pre-registration) qualifications in Speech and Language Therapy across European countries.
For information about initial qualifications and training institutions in each country, please use the embedded links in our Member Association list to go directly to their home websites and contact emails.
Many of our Associations' websites also feature information and advice relating to Speech and Language Therapy careers and employment in their respective countries.
Keep watching this page for future updates that ESLA aims to publish relating to the current numbers of pre-qualification students across all our Member Associations.
In addition, we will also include links to a selection of post-registration and continuing professional development courses.
Please note that all links included on our ESLA website are judged to offer high quality accredited training, delivered by reputable institutions.
Unless otherwise specified, ESLA does not receive any material benefit from promoting these education and training courses.
ESLA cannot take responsibility for any of these products or services.
Master and Postgraduate Diploma on Swallowing Disorders FSCSdM-UAB.
This fully online course is delivered by the Autonomous University of Barcelona / Universitat Autònoma de Barcelona UAB
Study is available in English or Spanish.
The current call for applications closes on 15th August 2021.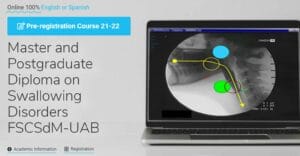 2021 Summer School: Comprehensive Clinical Training on the Evaluation & Treatment of Dysphagia
15-18 July 2021, Nicosia, Cyprus
Only registered SLPs can register to this specialized workshop having an active registration number and being members of the association of registered SLPs. In case someone is working as an SLP in private practice s/he needs to have a working license for the year 2021. SLPs from the Panhellenic Association in Greece are also eligible for the workshop.
For more information please contact m.christopoulou@euc.ac.cy