ESLA has commenced planning for potential future bids to access external funding to support project work that will address priority concerns of our Member Associations.
ESLA is pleased to support research, innovation and evaluation work that will have direct value to our Member Associations.
We will help to promote calls for research participants where there is is transparent evidence of ethical approval by an established agency.
Keep watching this page for updates.
Recruitment to current research projects
ESLA is pleased to promote recruitment to the following current research projects:
The members of the Multilingual-Multicultural Affairs Committee of the International Association of Communication Sciences and Disorders (IALP) recently launched an international survey to find out how clinicians in different countries assess and diagnose the language skills of multilingual children.
We ask for your help in the dissemination of this survey, so that we may obtain responses from clinicians from many different countries. This project has approval from Edith Cowan University Ethics Committee (approval number 2020-02004-HUNT).
We would be most grateful for your insight, and also ask you to forward the link to your professional networks and colleagues that also work with multilingual children.
To start the survey, please click HERE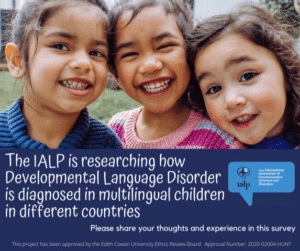 Thank you for your support
Prof Dr Wiebke Scharff Rethfeldt & Dr Lemmietta McNeilly,
on behalf of the Multilingual-Multicultural Affairs Committee
International Association of Communication Sciences and Disorders (IALP)